ISO 9001:2015
Qwerty Informatica is a company founded in 1999 that operates in the sector of services and consultancy in the field of Application Integration, Business Intelligence and Data Warehouse / Data Mart and Workshop systems.
The company has decided to adopt a Quality Management System compliant with ISO 9001: 2015 for the scope "Software Design, Implementation and Application Maintenance"determining, with a strong commitment both from a strategic and operational point of view, absolute adherence to the principles on which it is based.
The primary objectives of the Organization are to obtain the complete satisfaction of the needs, expectations of the customer and the market and the achievement and maintenance, through the offer of its services, of an excellent reputation in terms of quality.
The planning of activities, the structuring by processes, the habit of scrupulously following company procedures, the continuous and careful verification activities, allow Qwerty Informatica to obtain a high degree of customer satisfaction.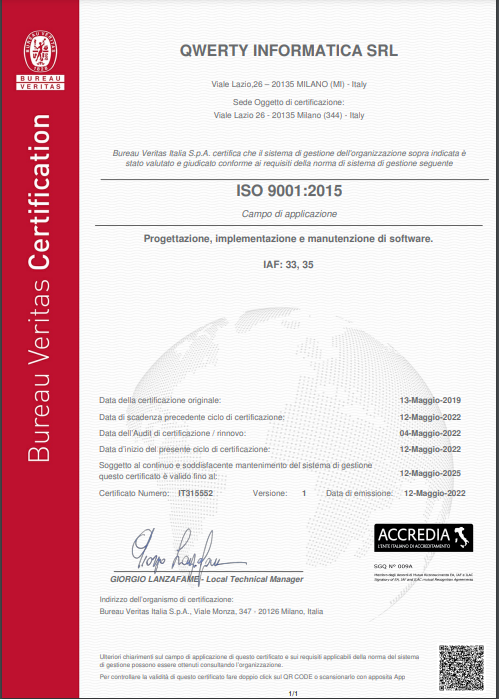 Qwerty Informatica is constantly committed to:
identify the real needs of the customer and offer innovative solutions;
propose customized, flexible and configurable solutions to the customer in order to reflect their needs and corporate image, always guaranteeing the expected requirements from the point of view of quality
guarantee availability and timeliness in the delivery of services and constant support to the customer
ensure respect for the individual and the community, regarding health and safety at work and environmental protection;
achieve full customer satisfaction by providing innovative services with high added value;
make available the resources necessary to maintain the Quality Management System with a view to continuous improvement.
To achieve the above, our daily actions focus on:
Attention to the Worker, as the main resource of value for the Organization;
Attention to Professionalism, as an essential tool for one's daily actions;
Attention to Seriousness and Transparency, as guides of one's work;
Attention to Quality, as the primary method for the realization of our services.
The management and collaborators of Qwerty Informatica, fully embracing the philosophy of the company, have as a further objective the full manifestation of these principles to client companies and the community in general.